No April Fool's day post for me, just the next installment of Space Saturday! This week I bring you the Cartwheel Galaxy.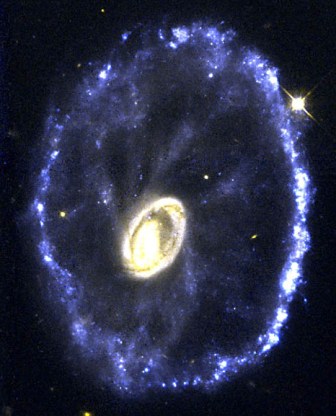 Credit: ST Sci, NASA
The Cartwheel Galaxy is the result of two galaxies colliding. This galaxy resides about 500 million light years away in the constellation Sculptor. There is a lot that could be said here, but I will leave it up to you if you want to find out more.
Check out my Space Saturday Archive!
Resources:
Hubblesite.org: The Cartwheel Galaxy: A Starry Ring World Born in a Head-On Collision
APOD: The Cartwheel Galaxy
SEDS: The Cartwheel Galaxy