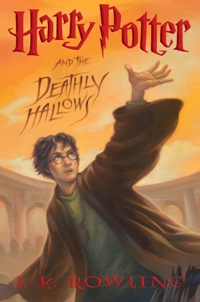 Ok, it is only the title, but it does sound pretty interesting! Harry Potter and the Deathly Hallows was announced today as the seventh, and final, book in the series! Again, doesn't say much… but do note that it is "Hallows" and not "Hollows" - distinctly different. Could it possibly be someone's holy death? Eh? Eh? You know it's coming!
UPDATE: February 1st, 2007 - Publish date for Harry Potter and the Deathly Hallows has been set for July 21st, 2007 (that's 7/21/07 - notice a pattern?)! Preorder at Amazon!
UPDATE II: March 28th, 2007 - Deathly Hallows book artwork is unveiled.
UPDATE III: Preorder it at Powell's Books!