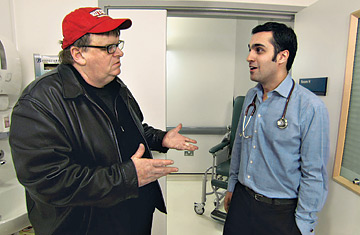 Time magazine recently interviewed Michael Moore (h/t to NewsBusters) and made this gem of a comment (emphasis added):
Every fact in my films is true. And yet how often do I have to read over and over again about supposed falsehoods? The opinions in the film are mine. They may not be true, but I think they are.
I have two things to say about this. 1) There are lots of places that have show that the "facts" Moore uses are not actually true. Check the post by NewsBusters for some great links. 2) Here is the kicker: his statement is actually completely accurate! What? I am siding with Moore? No, not so much. As noted in the most factual of all online sources, Wikipedia (heh), a fact, scientifically speaking, is defined as "an objective and verifiable observation." Using this definition, of course Moore's movie facts are, by definition, true. Unfortunately for him, he just don't use many facts. I suppose they could be using a more common usage definition where in investigations a fact could be "an item of information that can be verified as either true or false." It that's the case, well then see point 1 and we will see how his facts have been verified. I tend to like the scientific definition of fact. Either way, Moore has nothing good to say.
I feel like I have been writing too much lately, is it hard to keep up with it all?