---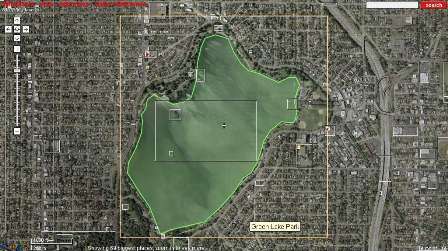 Alexandre
has announced that polygons have been introduced to Wikimapia
! This is a great addition! Currently only registered users can use the polygons and they can only be added to existing places. Also, they don't change the place marker, but show up when you roll your mouse over the location. This is definitely a step in the right direction!
The sixth edition of my how to use Wikimapia shows you how to turn a place marker into a polygon that fits your location. (Images are clickable for larger versions.)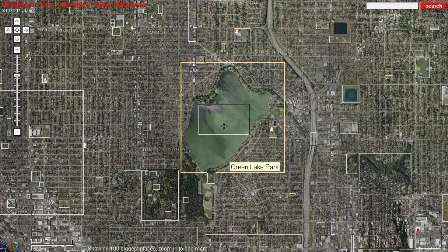 Here is Green Lake in Seattle, WA. The lake is obviously not a square. With the addition of polygons, we can now fit the place marker to fit the lake.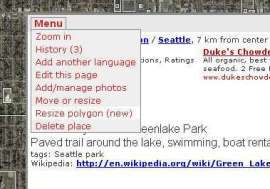 Click on the place marker you want to turn into a polygon. Go to the menu in the upper left corner and select "Resize Polygon" to get rid of the boring square.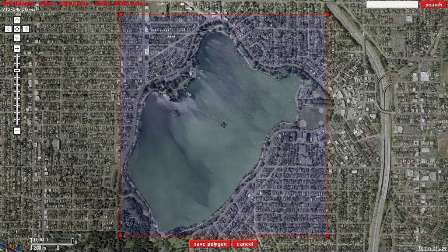 You will then be greeted with your place marker outlined in red with movable handles.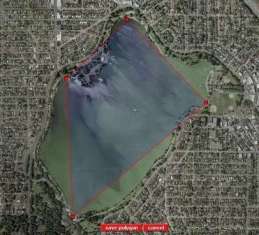 You have a few options for changing the shape. My recommendation is to move the four corners into the edges of your location. That is somewhat confusing, I know, use the above picture as an example. This isn't the only way to move things, this is just how I start it. You will have to play around with things to get a feel for it.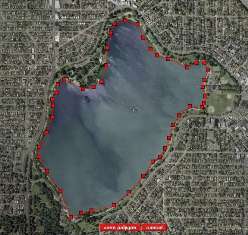 The next step is to add more points simply by licking the new locations where you want the point. For something roundish (like Green Lake) you will have to add lots of points, for something mostly square, you won't have to do much. When you have got all your points marked, click "Save Polygon" at the bottom of your screen.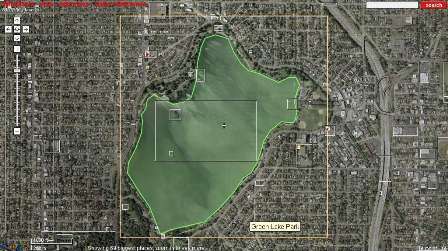 Once it is saved, you can roll your mouse over the place marker and you will see it outlined in green.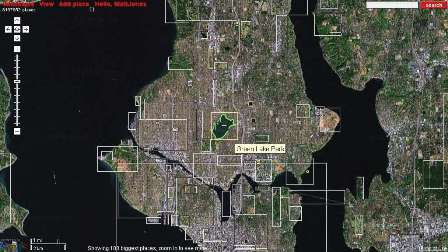 Even when you zoom out, if you roll over the location, it will be outlined in green.
Visit Green Lake and its new polygon shape at Wikimapia.
The Matt's Wikimapia Blog "How To" Series:
How To #1: Adding a New Place
How To #2: Upcoming Places
How To #3: Pictures and Comments
How To #4: Adding Wikimapia and Google Maps to your Website
How To #5: YouTube in Wikimapia!
How To #6: Adding Polygons
Comments
Thanks Matt! Nice addition to FAQ!

Matt,
Thanks for the quick tutorial. I thought I could add a *new* place with polygons and was getting frustrated. This makes sense. This is a great addition to wikimapia.

Doesn't seem to work in safari yet. I don't have the save and cancel buttons

There's also a way to delete unwanted points. Just click and hold on the point and a "remove" box appears. Click it and presto - the point vanishes.

Can we use polygons to describe a road? narrow polygon can be easily embed into a road.
so that it enables us to name roads like "brigade road", "commercial street" etc.

or you ppl making "lines" apart from "polygons"?

also "place type" does not have "roads" option, include this fast.

Thanks for the additional info drm310!

Vinay, roads should not be marked at all.

Yes, as Matt told the roads should not be marked. We are making a transportation system (road+sea+fligh) so soon roads may be marked in a appropriate way.

And I am unable to fix polygons in safari It's a Safari bug.

Very nice addition! Thank you! I have the following comments though:
1) There is no resize history for polygons
2) It would be great to see the places sa polygons by default (not only at mouse over)

Just wanted to say thanks for the info

A few of the roads covered by WikiMap are incorrect, most notably in Florida.

I seen to be unable to add new points to a polygon, using both Opera and Firefox browsers (latest versions on Linux).

Well, while I was writing this, I found I need to quickly move the mouse a few pixels and then click. Eventually, after some tries, the point is created.

I am unable to add new points to a polygon I can only move them.
I am using windows xp professional and IE7

Still, I would like to be able to place the poygon, and after that I remove the square. In this case, the marker shall be the polygon itself - without the square. Is it POSSIBLE?!

correction of spelling in my comment No. 20 above: poygon = polygon.

One more thing: Can we make a circle or an oval shape instead of the square? Because many locations, places and houses take the oval or circular shapes, and many users just create the shape which covers an area far beyond their real property.

great work.. Adding polygon in How to section has help me a lot.. thank you.. Tej Kohli.

thanks for help

need more in polygon, nice thing to see the globe at a glance….

great work in map becouse map isnot indicate small village in india

Raju patel:vvnagar-great work in map becouse map isnot indicate small village in india
date:09/02/2008

i think better more info. about performs on wikipedia web page.thank u.

hi sir
i want to add my home town so plz give authority to do it.
thank you

i kept putting polygon on our place for the nth time but doesn't seemed to work

what is wikimapia ?
how to use ?
useage ,,, application ?
benefight…?
drow beck..?

A very helpfull how-to!
But at first I never had a Menu in the upper-left corner. Here I read about problems with Firefox, so I switched to IE, and there it was!

Thanks for the tutorial and the maps that has been generated. Can you help us in building our GIS for our city. We are just starting to do it. Moreover, can we ask permission to use the updated generated image of our city for our GIS. Your help we sought. Thank you.

Having problems drawing polygon I get edges that when moved do not move back again to see what I mean typed in Great Horton cricket ground and you see the problems I HAVING

kapil sharma Welcome to you

Hi,
In the past I was able to add information about new sites on WikiMapia, and I also benefited from the search for sites added by others. But now I can not add any new site in addition to the absence of any written information on the WikiMapia maps , and became the search for anywhere impossible. Is WikiMapia changed its policy in the presentation of information that we add previously. Or is there a mistake in seeing the information I have, and my friends only.

How can i delete the points which i was added to map.

Some Indian states polygons are not precise.When I correct it and "save" , a window says "Polygon is too big, reduce its size".Why I cant draw large polygons while others can.

So the problem of too big polygons is unsolvable? Noone can help?

how can i add my home in syria/hims im already rigester

I want to add a place , thank you.

Respected Alexandre,
I am proud of you. Lot of thanks you for the work or task have done you.
I shall be able Whenever bygod I would like to meet you but only in India and If you come here please must inform me for your welcom & talking lots.
Once again Thanks to you with near & dear.

Jaiveer Rawat, Chamoli, Uttarakhand, India, 246449 (Mob- +919412018364)

cool stuff