Ah the Jesus fish. Each person will have a slightly different reaction when they see one of those driving down the road. I have pretty mixed feelings about them myself. I also have mixed feelings when I see the many "reactions" to the Christian fish.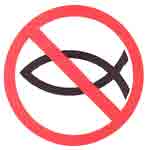 Where does the fish come from? Aside from the "fisher's of men" language and the feeding the multitude miracles, the fish take on additional meaning during Roman persecution. Nero started "state sponsored" persecution of Christians but that was largely cenetered around Rome. It wasn't really until Domitian (reigned 81-86AD) and Trajan (reigned 98-117AD) that state sponsored persecution of Christians was carried throughout the empire. During these times (and other times of persecution) Christians would use the fish as a sort of password. When people got together and wanted to make sure another person was a Christian they would draw in arc (in the sand or in their pudding, whatever) and if the other person was a Christian, they would draw an opposite arc to complete the fish.
What does "ichthus" mean and what does it have to do with anything? Well simply put, ἰχθύς is the Greek word for "fish". You may recognize it better as ̓ΙΧΘΥΣ́ whish is just ἰχθύς in capital letters. "Well I thought that ̓ΙΧΘΥΣ́ was an acronym and that is why it is put in the fish!" Well, yes, sort of. Later, ἰχθύς took on deeper meaning.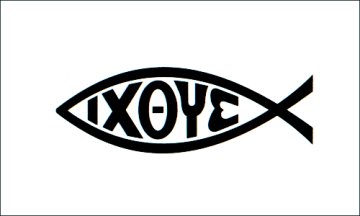 Ἰ - Ἰησοῦς - Jesus
Χ - Χριστός - Christ
Θ - θεός - God
Υ - υἱός - son
Σ - σωτήρ - savior
So "fish" or "ἰχθύς" took on new meaning as an acronym: Jesus Christ, God's son, savior.
When I was thinking about this entry I did a google search and came across this article at atheists.org and I just thought, they do not understand at all.

But contemporary Jesus worshippers might be surprised, even outraged, to learn that one of their preeminent religious symbols antedated the Christian religion, and has its roots in pagan fertility awareness and sexuality. Barbara G. Walker writes in "The Woman's Dictionary of Symbols and Sacred Objects," that the acronym pertaining to Jesus Christ was a "rationale invented after the fact… Christians simply copied this pagan symbol along with many others." Ichthys was the offspring son of the ancient Sea goddess Atargatis, and was known in various mythic systems as Tirgata, Aphrodite, Pelagia or Delphine. The word also meant "womb" and "dolphin" in some tongues, and representations of this appeared in the depiction of mermaids….
Humm… right. I don't have a problem if Christians reclaimed pagan rituals as their own, it is likely that Christmas is one such reclamation. But this suggestion is pretty far off base. Jesus always used language of fishermen because those are the people he talked to. Ichthus was "rationale invented after the fact"? No, icthus just means fish and it also happened (?) to be a good acronym.

There have (obviously) been many variations and reactions to the Christian fish logo. The Darwin was the first and seems to be the most popular (although I think there have been other, more clever versions - I personally like the alien one and the T-rex is pretty original). Many Christians see this as an attack on belief because it suggests that Evolution is better than Christianity. This is not what my beef with the Darwin logo is. My beef is that it is completly disrespectful of where the logo came from and what it means. Christians were killed for their faith and it was a sign that would help save them and join in community with other Christians. These were real people that had to deal with perscution that we will probably never know and we should not belittle that like the "mock" fish do.
This also means that I think Christians should take it more seriously and not just put it on every single free space they have available. I am not a big fan of them on cars because Christians screw up and often times aren't the best "witnesses" on the road. As a good friend has said, many Christians should have the fish on the inside dashboard and not the outer bumper. If you don't understand that, figure it out, it could be revalatory.
It is late in the am and not sure if this is making any sense so I should stop here.
God Bless and Shalom
And by request…