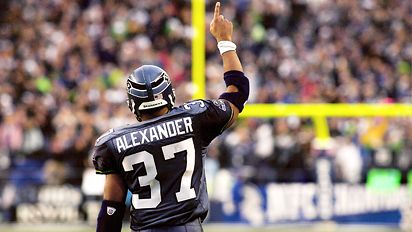 Seattle's Shaun Alexander celebrates his second-quarter TD. Credit: Robert Giroux/Getty Images
Yes, that's right, I am reporting it before the end of the game! Knock on wood, I know. Heh. Seattle has been so completely dominant today, they are just having fun. Heading into the fourth quarter, Seattle has 350+ total yards. Carolina? 109. Total. Matt Hasselbeck: 18 for 25 passing for 200 yeards. Jake Delhomme: 10 for 29 for 120 yards. Steve Smith: 2 receptions for 8 yards! How is that for the man that can't be stopped? Shawn Alexander: 118 yards rushing. More to follow when the game is actually over. Awesome game!! Score: Seatte 27, Carolina 7
UPDATE: Shawn Alexander scores his second TD, Smith looks dejected. Seattle 34, Carolina 7
UPDATE 2: Carolina TD after stupid Seattle penalty. Onside kick picked up by Seattle. Seattle 34, Carolina 14
UPDATE 3: Seattle starts to take it easy. Steve Smith fumbles. Frustrated much?
UPDATE 4: It is official!! Seattle heads to their first Superbowl in franchise history! Final score of 34 to 14. What a great game! Both Seattle defense and offense played top games and should be proud. 393 total yards for Seattle vs. 212 for Carolina. Alexander ends up with 2 TDs and 132 rushing yards. Steve Smith could not catch a break against Seattle's defense and caught five passes for 33 yards! Jackson and Stevens also had great games 75 and 66 receiving yards respectively and a TD each. Carolina had a total of 36 rushing yards and Delhomme threw three interceptions. Quarterback ratings: Hasselbeck: 118! Awesome! Delhomme: 35! Not so excellent!
And how 'bout that 12th man!? The some 67,000 fans were deafening and did not let up throughout the game, quite incredible. Bring on the Steelers! Superbowl XL, here comes Seattle!
See some pictures below the fold (click "more" below).
Resources:
ESPN: Carolina @ Seattle
Seahawks.com
Seahawks are going to Superbowk XL in Detroit on February 5th, 2006!
ESPN: Panthers' Smith a non-factor in loss to Seahawks
Cheers
-Matt Jones

Seattle Seahawks' Shaun Alexander (37) crosses into the end zone for a touchdown against the Carolina Panthers during the fourth quarter of the NFC championship football game Sunday, Jan. 22, 2006, in Seattle. Credit: AP Photo/Jeff Chiu

Seattle Seahawks quarterback Matt Hasselbeck (8) scrambles out of the pocket away from Carolina Panthers' Julius Peppers during the second half of the NFC championship football game Sunday, Jan. 22, 2006 in Seattle. Credit: AP Photo/Rick Bowmer

Seattle Seahawks safety Michael Boulware (28) points skyward after intercepting a pass by Carolina Panthers' Jake Delhomme, not shown, during the third quarter of the NFC championship football game Sunday, Jan. 22, 2006 in Seattle. Credit: AP Photo/Elaine Thompson

Seattle Seahawks' Darrell Jackson, left, celebrates his third-quarter thouchdown with teammate Josh Scobey against the Carolina Panthers in their NFC Championship football game in Seattle, on Sunday, Jan. 22, 2006. Credit: AP Photo/Ted S. Warren

Fans cheer the opening kickoff of the NFC Championship football game between the Carolina Panthers and Seattle Seahawks, Sunday, Jan. 22, 2006 in Seattle. Credit: AP Photo/Ben Margot

Seattle Seahawks quarterback Matt Hasselbeck hoists the NFC championship football trophy after the 34-14 defeat of the Carolina Panthers Sunday, Jan. 22, 2006 in Seattle. Credit: AP Photo/Ted S. Warren

Seattle Seahawks head coach Mike Holmgren, center, raises the NFC championship football trophy after their 34-14 defeat of the Carolina Panthers Sunday, Jan. 22, 2006 in Seattle. At left is Terry Bradshaw, at right is Seahawks' owner Paul Allan. Credit: AP Photo/Ted S. Warren