The Pale Pacific played last night at The Crocodile Cafe and put on a freaking amazing show! The four guys play really well together and have a great stage presence. The music was dynamic and powerful. Everything you could want in a good show!
Pics (clickable for larger versions) are below. Some turned out better than others… as is usually the case. Thanks to Gabe, Cameron, Greg, and Justin for a kickin' show!

Gabe Archer
Gabe on the Keys - Gabe on the Keys with a big smile

Cameron
Cameron #2 - Cameron #3 - Cameron #4 - Cameron #4 - Cameron #5 - Cameron #6

Gabe, Justin, and Cameron's sister.

Gabe and Cameron rocking.
Rocking #2 - Rocking #3 - Rocking #4 - Rocking #5

Gabe, Greg, with Cameron on the drums. - #2

Gabe and Justin - Justin and Cameron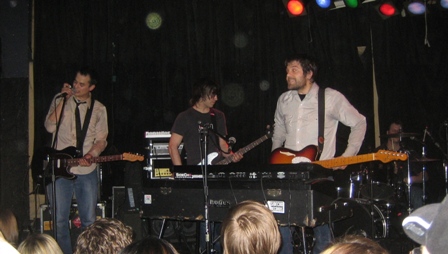 The guys: Gabe on electric, Justin on bass, Cameron on electric, and Greg on drums.