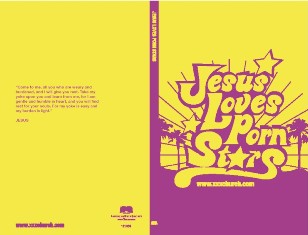 While browsing this week's Christian Carnival I came across Imago Dei's post Bibles for Porn Stars and it caused me to think. The xxxchurch blog posted Bringing Bibles To The Porn Industry and said this:
We have been doing ministry for several years now and have had a great outreach at the porn shows. On three different occasions, we have given away Bibles for free at porn shows. Much to our surprise, they were well received. … After the last show in Las Vegas, where we gave away 1000 bibles, I looked into getting custom bibles printed that would match the whole look of our booth. We have a 10-foot backdrop, postcards, stickers, and T-shirts that all have "Jesus Loves Porn Stars" design. The new Bible cover art was an attempt to customize that image and message with the powerful word of God. The cooler the cover, the more separated from all the trash someone gets at a porn show, the more likely it gets picked up and read.

I contacted the American Bible Society and had made arrangements months ago to order 10,000 bibles. We have 3 porn shows coming up (Erotica LA, June. Gay Erotica NY, October. AVN Expo Las Vegas, January.) The cost was over $7,000 but in our opinion it was money well spent. They printed the Bibles prior to getting our cover artwork. Two weeks ago, we sent over the cover art and all hell broke loose.

Long story short…they have refunded all of our money and have refused to print the Bibles. They have told us that this goes against everything the Bible stands for and they don't want anyone to think that Jesus is okay with porn. We think they are wrong. We think this goes with the central message of the gospel and Jesus loves you regardless of your profession.
Maybe I should explain what the xxxchurch is, well as much as I can, I don't really know too much about it. From what I have heard, and their website has more info, they are a Christian outreach to the porn industry. Obviously there is more to it than that and there is quite a bit of controversy surrounding their ministry. I still haven't really decided how I feel about it yet: I can see both good and bad things about it.
This development with the American Bible Society also has me questioning a few things. Amanda supports what the xxxchurch is doing and thinks the ABS was in poor form to reject the order of Bibles. Part of me agrees but part of me is still hesitant. Aside from the obvious issues of Christians being at porn shows (and therefore the temptation involved with such exposure), I can recognize that it is a place that needs to be ministered to. Having spent a day with a ministry to a red-ligh district in Antwerp, I am fully aware of the need in the sex industry.
Does that need require a "cool" cover on the Bible? My problem with the Bible (and therefore their booth - although less so with the booth because the booth is not the Word of God) is that the slogan "Jesus loves Porn Stars", while true, is somewhat ambiguous as to its meaning. I, and most I am sure, understand it to mean that Jesus loves the person, but not the sin. But the slogan, as it is, could be taken to imply acceptance of that line of work. Since the Bible is clear on that issue, I don't feel it is appropriate for the Word of God to have a statement of ambiguity on its cover. You don't see "Jesus loves liars" or "Jesus loves murderers" Bible covers, so why is this any different?
Part of my hesitation resides with my frustration with some "seeker senstive" churches in general. It is appropriate to be seeker sensitive, but not at the expense of the Gospel. If I go to a hockey game (as I am an American in Canada), and don't understand the sport, I don't expect the announcer or the players to "dumb things down" for me or explain things to me. I would expect that the people I go with or others around me to explain things to me. This is how a seeker sensitive church should function: Preach the Gospel and expect that church members (or people that bring seekers) to be warm and inviting and willing to actually invest in relationship with those who do have questions. This doesn't fully relate back to the xxxchurch Bible, but it is similar in that we should not change the Bible to fit the culture (in this case the porn industry), even if it is just the cover. If the ministry is doing what it is supposed to and is being effective, the Word should speak for itself without having to dress it up.
It appears that many Christians are on board with the xxxchurch, or am I wrong about that? It seems that I am leaning towards agreeing with the decision of the American Bible Society (although I wouldn't go quite so far to say it is against everything the Bible stands for), but can also see the xxxchurch's position as well. Any thoughts out there?
This post has been trackbacked to Pursuing Holiness at her Open Trackback Thursday. Thanks Laura!