Since today is my birthday I thought that I would start up the (somewhat ambitious) task set out in Project 365: take a picture every single day for a year. My first photo comes from hanging out with middle schoolers. I am a middle school Young Life leader (for those that knew me in high school they might be somewhat surprised by this as I was not a big fan back then… to say the least) so I periodically get to hang out with some crazy 7th graders.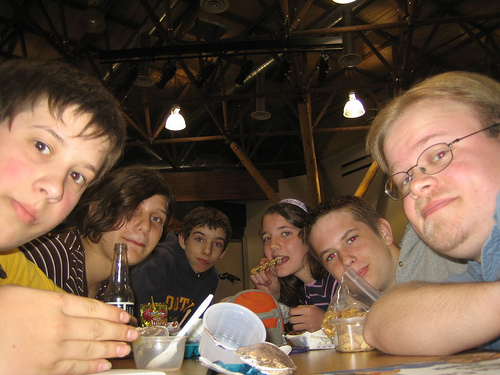 If you want to see an example of what happens when you let them borrow your camera, see my Flickr set Hanging Out With Middle Schoolers.
To keep up with my progress (I won't be posting my daily photos here), you can see my daily snapshots at my Project 365 photo set. I will be contributing to the Project 365 Flickr group along with the Project 365 group @ Vox as well. When the photos are of me, I will also be adding them to the 365 Days Flick group (which are all self portraits).
Wish me luck! Oh, and thanks to K.C. for his amazing birthday card!
Cross posted at my Vox