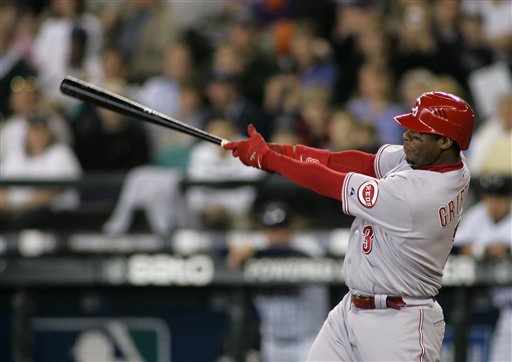 Source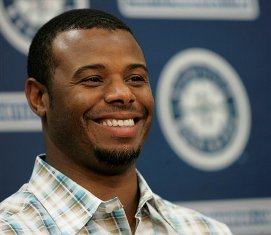 Dressed in street clothes after the game, Cincinnati Reds' Ken Griffey Jr. talks to reporters. Two home runs hit by Griffey moved him past Mark McGwire to seventh place in all-time home runs at 584. (AP Photo/Ted S. Warren) Source
Ken Griffey Jr. has been my favorite baseball player since he started with the Mariners in 1989 so the three game series that Seattle played against the Cincinnati Reds was fun to watch as Griffey hadn't been back to Seattle since he signed to the Reds after the 1999 season. It was quite a thrill to see him batting and taking the filed at Safeco again.
Had Griffey not been injured I think he could have been one of the best players to play baseball. Even now, I think he is right up at the top. Especially when it comes quality of character and growth as a person. From being "The Kid" in Seattle to the 38 year old father of three, he has come a long way and often with a huge smile on his face. And no steroids. Forget you Bonds.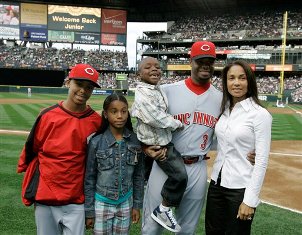 Cincinnati Reds' Ken Griffey Jr. poses for a photo with his wife Melissa and children as Griffey Jr. is honored Friday, June 22, 2007, at Safeco Field in Seattle. (AP Photo/Ted S. Warren) Source
The big question now is "how do we get him back to Seattle?" In an interview, Griffey hinted that he wouldn't mind coming back to Seattle to play. His return was quite emotional; multiple standing ovations, signs of support, and dusted off #24 Griffey Jerseys were seen all around Safeco Field. Griffey hit two homeruns in today's game which brought on more cheers and standing ovations. How often does an opposing team's player get such acclaim? Players on both teams said it was an exciting series and great to be a part of.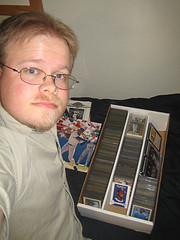 For today's Project 365 photo I decided to pull out my box of Griffey cards. My dad and I collected lots of baseball cards in the early and mid-90s and Griffey was, by far, my favorite to collect. I still have every one I have acquired and I imagine I probably will for a long time… even if I sell off the rest of my collection. And yes, that entire box of cards is filled with Ken Griffey Jr. cards, although only five (or so) are from his time with the Reds. If you happen to have any of his cards that you don't want any more, please feel free to send them my way!

Griffey has a few more yeas as an outfielder. Right? He is 38 and is slowing down a bit (although he can still make some awesome plays!) so he cannot last there forever. This means he needs to switch to DH because he can still hit like mad. This cannot be done in the NL so he will have to be traded to the AL in a few years… why not the M's? Seattle would gladly welcome him back! Come on over!