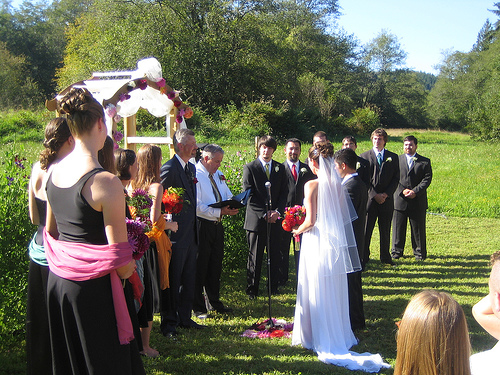 Mr. and Mrs. KC and Hilary Dameron and their wedding party
This weekend I had the huge pleasure of heading down to the Dameron "compound" in Montesano, WA and saw two good friends get married. KC and Hilary finally got hitched! Huzzah! The weekend was a whole lot of fun; I got to hang out with friends, eat good food, and relax in the beautiful weather on some equally beautiful property. Hilary was beautiful, KC choked up, and there was lots of dancing: could things have gone any better? To see some of the pictures that I took, check out my Flickr set: KC and Hilary Get Married!
Dan and Stacey… and Hilary and KC… and even Dan and KC's mom Sammy keep trying to set me up. Think I have a chance?