I believe that if a writer is writing out of his own truth, then the reader is going to learn from that truth; it need not and should not be didactic, but it is nevertheless teaching, and I am greatful for it… the best way for me to learn has always been in coming across a writer's shared truth in story. (Madeleine L'Engle in the foreword to Paul Ford's Companion to Narnia)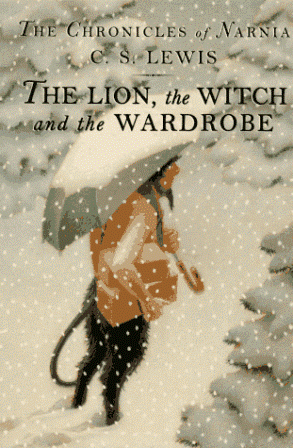 I finished Lewis' The Lion, the Witch, and the Wardrobe late last night and now I am even more ready for the film to come out. I am really glad I read The Magician's Nephew first as it sets a good foundation for Narnia as well as Aslan. (See the bottom of this post for links to my blog posts for all the books of the series.)
I recommend that everyone go out right now and pick these books up. They are a quick read but filled with lovely imagery and pure truth.
Wrong will be right, when Aslan comes in sight,
At the sound of his roar, sorrows will be no more,
When he bares his teeth, winter meets its death,
And when he shakes his mane, we shall have spring again.
Looks like the setup for a pretty intense story. There is also talk by the children about Aslan that I think I have often expressed about following Jesus.

"Is he - quite safe? I shall feel rather nervous about meeting a lion." [said Susan about Aslan]

"…if there's anyone who can appear before Aslan without their knees knocking, they're either braver than most or else justsilly.." [said Mrs. Beaver]

"Then he isn't safe?" said Lucy.

"Safe?" said Mr. Beaver; "don't you hear what Mrs. Beaver tells you? Who said anything about safe? 'Course he isn't safe. But he's good. He's the King, I tell you."
Walking with Jesus is not safe. He is not safe. His call on us is large. But He is good. He is King.
After the tear jerking moment of the sacrifice of Aslan on the Stone Table we are left with Lucy and Susan looking down on Cair Paravel:

At that moment they heard from behind them a loud noise - a great cracking, deafening noise as if a giant had broken a giant's plate.

…

The rising of the sun has made everything look so different - all colors and shadows were changed - that for a moment they didn't see the important thing. Then they did. The Stone Table was broken into two pieces by a great crack that ran down it from end to end; and there was no Aslan
And Aslan was back. This passage makes me think of Mark:

And Jesus uttered a loud cry, and breathed His last. And the veil of the temple was torn in two from top to bottom. (Mark 15.37-38)
How is that for authority?
And lastly, one of my favorite passages again comes from Aslan before he rescues the statues and charges into battle:

"And now," said Aslan presently, "to business. I feel I am going to roar. You had better put your fingers in your ears."

And they did. And Aslan stood up and when he opened his mouth to roar he face became so terrible that they did not dare look at it. And they saw all the trees in front of him bend before the blast of his roaring as grass bends in a meadow before the wind.
Now come on, how intense is that? (I really look forward to seeing that on the big screen - my imagination isn't always as good and big and loud as Cinerama

)
I really want to contine the series (next up is The Horse and His Boy) but I think I should probably get reading for the Family book and Cd/Dvd exchange! This month I am reading A River Runs Through It by Norman Maclean. Time to get reading!
Shalom
My blog posts on The Chronicles of Narnia series: