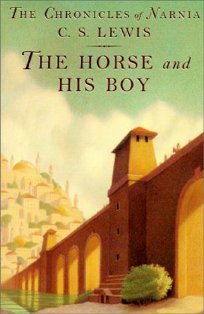 After picking up The Chronicles of Narnia series again over the summer, yesterday I finally read The Horse and His Boy, the third in the lovely series. (See the bottom of this post for links to my blog posts on all the books of the series.)
The story centers on Shasta (who is actually Prince Cor of Archenland) and the (Talking) Hore Bree who was kidnapped from Narnia and their journey across the Calormen desert to castle Anvard. This all takes place in the golden age of Narnia during the rule of the two sons of Adam and two daughters of Eve. This is a wonderful story of adventure, growth, and trust. Of course, Aslan brings everything together as someone who is soverign and in control, sometimes when the characters know it and at other times they have no idea.
At one scene Bree was denying the possibility of Aslan's physical nature as Lion when Aslan then appeared before him:
"Aslan," said Bree in a shaken voice, "I'm afraid I must be rather a fool."

[Aslan responds,] "Happy the Horse who knows that while he is still young. Or the Human either."
Humm, pretty profound I think.
Great book and wonderful addition to Narnia! Now it's time for Prince Caspian. Go read up.
-Matt Jones


My blog posts on The Chronicles of Narnia series: