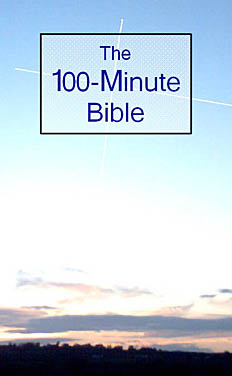 I heard about this a few weeks ago, but refused to believe it. The 100-Minute Bible was launched on September 21st in England and at the risk of being sacrilegious, St. Paul is rolling in his grave… so to speak.

The 100-Minute Bible is primarily intended for people who have an interest in Christianity but not the time (nor tenacity!) to read the whole Bible. As the title indicates most people will only take 100 minutes to read it, making it ideal for an upcoming rail or aeroplane journey. [the100-minutepress.com]
What the hell? Seriously. This both says something about Christianity and society at large. I do believe that Christains need to be relevant to today's society (although I am not so sure the Emergant Chuch has it right either), but there are appropriate ways to do this. In post-modern times this can be difficult, but needed. And it is still quite possible to retain tradition and more importantly Truth while still being relevant.
The way I see it the 100-Minute Bible is aimed at two groups: those interested in Christianity but don't want to read the loooooong Bible AND Christians who don't want to actually read the Bible but want to remain Christian. Let me discuss both groups.
For those that are interested in Christianity, I can understand that the Bible can be somewhat intimidating, it is, indeed, long. You have many options though. If someone is interested in Christianity, great, one of the first things you should know is that the Bible is considered sacred scripture and its authenticity is something that Christians try to hold in high regard. As such, any sort of modification to that text tends to be suspect. This is why Bible translation is such a difficult and important field. Bible translations attempt (some better than others) to capture original intent, meaning, and Truth. Any time a translator deviates from that, there are problems. If you have interest in Christianity, please respect the fact that the Bible exists as a whole and any sort of abridged version does not maintain the quality that is expected of a solid translation. Also, don't feel you have to read all of the Bible if you are looking to find out more (that can come later). There are appropriate passages and sections that can be focused on (without having to throw out the rest), especially the Gospel of John. Another option would be to read books about the Bible that will let you know what is going on, the context, and theology to be found in the Bible without claiming to be the Bible. Gordon Fee's How to Read the Bible for All Its Worth is a good introduction to what the Bible has to say. And many of C.S. Lewis' books would be good reading for an introduction to Christianity (including the Narnia series). I just ask that you recognize that the Bible is a complex piece of literature that draws on many genres and can be read in pieces, but a truncated version is distinctly different.
To the second group (please see my post, Judge not…, before you jump all over me!), my brothers and sisters in Christ, I just have to say this: don't be a lazy ass. You are short on time? That is the lamest excuse ever. Everyone has time, even if you don't want to admit it to yourself. If you are reading this right now, you have time. No one ever said you had to read the entire Bible all at once, it would be stupid to suggest that you do (which is actually another thing the 100-Minute Bible does). No one even said you had to take your entire Bible with you everwhere you go. Take 5 minutes, read a Psalm. Take 15 minutes, read Phillipians. Whatever, just do it. Now of course, as a Christain, you should be wanting to grow in your faith and therefore would also want to meditate on the Word and that will often take a bit more time. But so what? You are (I am assuming) an adult, act like one and stop making excuses for displacing the practice of your nominal faith.
Just because society is set on being fast paced, doesn't mean that religion has to be the same way. I think people should be able to come to Christianity as a breath of fresh air. Christianity should not act counter to what it is just because society acts that way.
UPDATE: Matt Gumm has a nice post on the 100-Minute Bible that offers more explicit suggestions for beginning Bible reading that will not deter from the whole Word.
Resources and articles:
The 100-Minute Bible Website, A sample of Matthew
New page-turner Bible is launched - BBC News
Speedy but spiritual: British cleric unveils '100-Minute Bible' - Yahoo News
'100-minute Bible' is launched - CNN
Vicar launches '100-Minute Bible' - Times Online (UK)
Ή χάρις του κυρίου ημων Ίησου Χριστου μεθ' υμων.