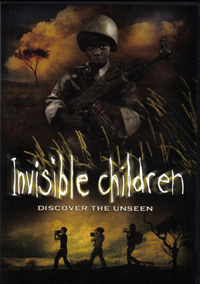 This is a big topic to cover, I hope you will read the entire post as it is an important issue! Generally speaking, when I have money to tithe/donate I give to either World Vision, my church, or to UCF, I believe there is another to add to my list. Nathan Marion over at BlueTree is great at pointing out worthwhile casuses to support (and is working on one as well over at Bands Without Borders). One that he has mentioned a number of times is Invisible Children. [UPDATE: I have also created an Invisible Children Resources page that you should check out!]
Invisible Children is an organization that is dedicated to helping children in the war-torn northern Uganda. The long lasting war has been devistating to the population of Uganda especially with the tactics of the Lord's Resistance Army to force children into fighting for them against the government. Please see the resources at the bottom of this post or the Invisible Children FAQ for more information on the struggle.
There is also news today that Joseph Kony has emerged from hiding to discuss a cease fire (please see resources below for news links). This is great news and would help in rehabilitating that war torn area. Please pray that Kony will bring this war to an end and stop taking advantage of (read: murder, rape, steal, etc.) the people he is supposedly trying to set free. While Kony saying "I did not do anything" doesn't bode well, attending peace talks is a start.
One of the ways that IC is trying to spread the word about the need in Uganda is through their DVD: Invisible Children: Rough Cut (that can be purchased for $20). You can also see the full (I think) 55 minute film over at Google Video. Watch it. It will make you cry. This is the film that started their mission. Check it out! There will also be a screening of the film in Seattle today (August 2nd) in Freemont at the Boys and Girls Club (3921 Linden Ave N) at 7:00pm so grab some friends and go get educated!
I would like you, my faithful readers and/or passers by to help out in one of three ways. Yes, you can help out! First would be to Donate to Invisible Children. If you would like to know how your donation would be used, read their their first FAQ. Secondly would be to Purchase one of their bracelets. Please checkout their Bracelet Campaign page to see what it is all about (essentially it is to raise money for the people of northern Uganda by the production of these bracelets and the highlighting of individual children affected). There will eventually be eight bracelets, each with their own stories. Each one is $19.99 (or you can get them all for $139.99). Currently White - Innocent and Green - Grace are available. And thirdly (and, really, much less importantly) you could donate to me! I am still jobless but this is something that I would like to participate in. I am not really a bracelet guy, but I would like to purchase one [$19.99] (or hopefully all eight eventually[$139.99]). If you would like to help me support this organization, click the "Please Donate" button below that will take you to PayPal where you can donate to me. PLEASE NOTE: clicking that link will allow you to donate to me, NOT Invisible Children. If you want to donate to them directly, click here or purchase your own bracelets from them.
Even if you choose not to donate, please watch Invisible Children at Google Video or check out the huge amount of information at Invisible Children or through the resources below.
One other cool thing to mention here is that there will be a songwriters benefit concert for Invisible Children August 15th (Tuesday) at Chop Suey at 8:00pm (7:30 doors, 21+, $6). The show is going to be amazing! Check out this line-up: Yesan Damen (MySpace), Graham Travis (MySpace), Gabe Archer of The Pale Pacific (MySpace), and Late Tuesday (MySpace)!! Let me say it again: This show is going to be amazing! Great music to support a great cause! BE THERE!
Also, head over to Laura's Open Trackback for some other great posts! Thanks Laura!
Thanks for your time!
[Addendum 8.31.06] Please visit Uganda-CAN: Uganda Conflict Action Network for current information on this region, the war, and more importantly, the cease fire. There are a lot of stories coming out of the region right now, good and bad. This is an important time to support Invisible Children and Uganda!
Resources:
Invisible Children
Invisible Children Bracelet Campaign
Invisible Children Store
Google Video - Invisible Children: Rough Cut
Wikipedia - Invisible Children
Wikipedia - Invisible Children Inc.
Wikipedia - Uganda
Wikipedia - Lord's Resistance Army
Wikipedia - Joseph Kony
MySpace - Invisible Children
Digg - Invisible Children
BBC News (Oct. 22, 2004) - Uganda's invisible war
BBC News (Aug. 1, 2006) - Uganda LRA chief calls for truce
CNN (Aug. 1, 2006) - Ugandan rebel leader emerges from bush for peace talks
[UPDATE] BBC (August 29, 2006) - Uganda begins ceasefire with LRA - All the more reason to support this cause and the people they send to help.
…don't forget about us…