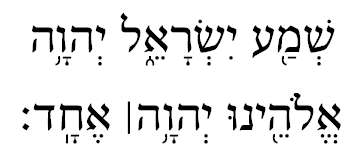 Shema Yisrael Adonai Eloheinu Adonai Ehad
I love the Shema. The Hebrew ??? (shema) is in imperative and is literally commanding: "Hear!" Deuteronomy 6:4-9 tells us:
4 Hear, O Israel! The LORD is our God, the LORD is one!
5 You shall love the LORD your God with all your heart and with all your soul and with all your might.
6 These words, which I am commanding you today, shall be on your heart.
7 You shall teach them diligently to your sons and shall talk of them when you sit in your house and when you walk by the way and when you lie down and when you rise up.
8 You shall bind them as a sign on your hand and they shall be as frontals on your forehead.
9 You shall write them on the doorposts of your house and on your gates.
This is probably the most important prayer in Judaism… and it should be in Christianity as well, especially since it was reaffirmed as one of Jesus' greatest commandments. Mark 12:29-30 has Jesus' response to a scribe's question about which is the greatest commandment:
29 Jesus answered, "The most important is, 'Hear, O Israel: The Lord our God, the Lord is one. 30 And you shall love the Lord your God with all your heart and with all your soul and with all your mind and with all your strength.'
The Old Testament and the New Testament seem to agree: YHVH, God, The Lord, Jesus is who we are to live for. Not just a priority, but everything. Everything in our life stems from our devotion to Him. Seems pretty clear to me!
One of my favorite words in the Hebrew (yeah, cause I have so much experience!) is ??? (nephesh) and is used in Deut. 6:5 and is most often translated as "soul" but has a much richer connotation. Here are a few of the words that ??? can also translated as: living being, life, self, person, desire, appetite, emotion, and passion. This Hebrew word is somewhat comparable to the Greek ???? (psuch?) word that is used in Mark 12:30. The Greek also has much deeper meaning than the simple translation "soul": inner self, life, person and Louw & Nida comment that it is "the essence of life in terms of thinking, willing, and feeling - 'inner self, mind, thoughts, feelings, heart, being.'" Again, this is all to say that God wants every part of our life. Not just one aspect.
So, Hear O Israel! And that means YOU. This is the personal God of Israel that has become the personal God of the world. He wants you to hear. Not just listen, but hear.
The Hebrew in Deuteronomy and the Greek in Mark are both extremely beautiful, so here they are: