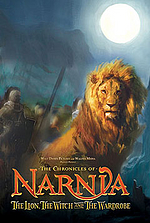 Erin made me aware of the new Chronicles of Narnia movie trailer. Go. Watch. Now. It looks like they are doing an awesome job - especially awesome that WETA Workshop is involved. I hope they do C.S. Lewis proud!
A while back I was introduced to makepovertyhistory.org by Glenn (he may not know it though!). Makepovertyhistory.org is an organization in the UK that is strving to do what their name suggests, one person at a time. I have been trying to find the US couterpart to them and realized that one.org is it. I also didn't realize that one.org has also been running tv ads with celebrities telling you to go to their site and sign their "declaration". Now I don't really care for celebs promoting causes because I find it hard to take many of them seriously. Bono is one celeb that I respect because he seems to walk the walk and not just talk the talk so thankfully he is at least a good support for the cause - Brad Pitt just doesn't do it for me. Of course there are others that are supporting the cause (like World Vision), but that really isn't the point. The point is that one.org is a good cause and worth looking into to get involved and hopefully start making a difference.

ONE by ONE, we can help them help themselves.
I think that is a pretty good goal. Check it out. (Thanks to Dan and Michelle for sending an email and reminding me about the project!)
Shalom